Travel
The workshop will take place at:
INRIA Sophia-Antipolis2004, Route des LuciolesSOPHIA-ANTIPOLIS, FranceConference room E006 (nicknamed "Euler Violet")
How to get there
The international airport in Nice is connected to most large European cities and several American cities too. There is a direct bus connection from the airport to the entrance door of INRIA (we're soo famous you know...) for as much as one Euro and thirty cents.
There is also a bus from the Antibes railway station.
Local busses (see map below) operate from Antibes center or railway station.
At first sight, lines 1, 11 are interesting if you stay in Antibes.
Some useful links:

Accommodation
Every participant will pay for one's lodging separately. Lodging is not included in the fee. We would advise you to stay right inside Sophia-Antipolis, which is a sort of technology and science park. It may prove a little quiet at night, so we'll have to organize for the evenings. However, those who want to extend their stay might want to stay in a more lively place, such as Antibes city. But a car becomes very useful then. Below is a map of the Sophia-Antipolis area, featuring INRIA and the nearby hotels. Below also are the details of the these hotels. INRIA has no negociated rate with any hotel.
Please make your reservation well in advance
.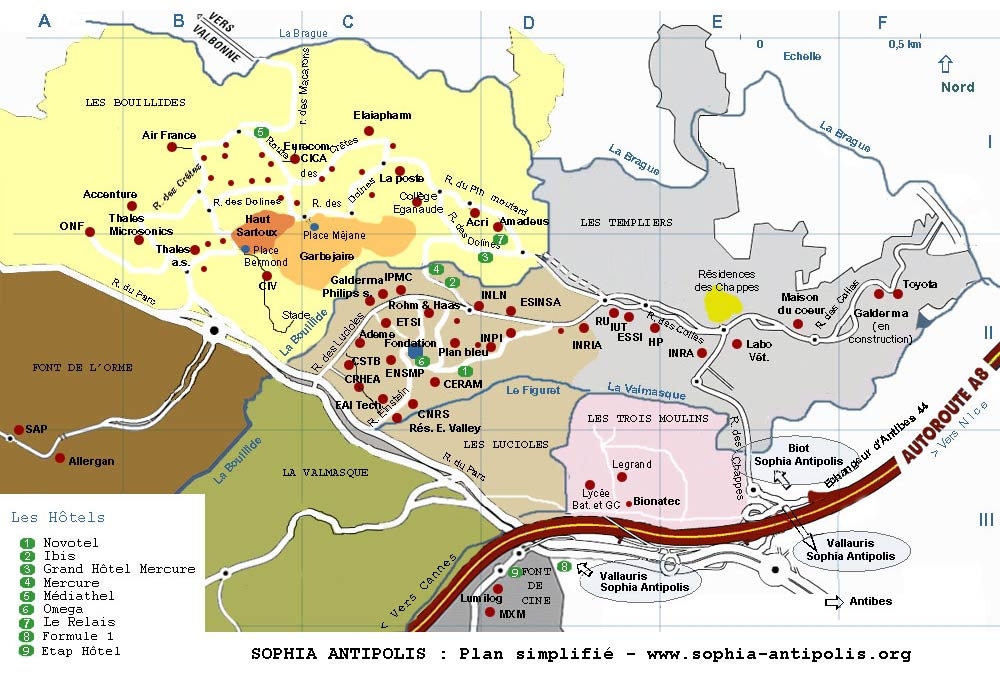 Scale on the map: one square is 500 meters X 500 meters
Check your Hotel with respect to INRIA location. Beware, there is also an "INRA" which is not us!
Prices given below are only indications, depending on comfort and season.
In French ratings, 2 stars is quite good.
3 stars is essentially for those who like to pay more...
Hotel Le Relais (N°7 on the map) 2 stars
3725 Route des Dolines, 06410 Sophia Antipolis
Tel. +33 (0)493.95.84.82, Fax. +33 (0)493.95.84.74
    
single : 62 ¤, double : 68 ¤, Breakfast : 8 ¤
Hotel Ibis Sophia Antipolis (N°2 on the map) 2 stars
2, Rue Albert Caquot - Les Lucioles - Valbonne - 06560
Tel. +33 (0)493.65.30.60, Fax +33 (0)493.95.83.99
    
    http://www.ibishotel.com/gb/home/index.shtml
single / double : 75 ¤, Breakfast : 7,50 ¤
Hotel Novotel Antibes Sophia Antipolis (N°1 on the map) 3 stars
290, rue Dostoievski - Les Lucioles 1 - Valbonne - 06560
Tel. +33 (0)492.38.72.38 Fax. +33 (0)493.95.80.12
    
    http://www.novotel.com/novotel/index.html
single : 109 ¤. double : 116 ¤. breakfast : 13 ¤
Hotel Mercure Sophia Antipolis (N°4 on the map) 3 stars
Rue Albert Caquot - Valbonne - 06560
Tel. +33 (0)492.96.04.04, Fax. +33 (0)492.96.05.05
    
Single : from 120 ¤ to 140 ¤, Double : de 120 ¤ à 140 ¤, Breakfast : 13,50 ¤
Hotel Omega (N°6 on the map) 3 stars
49, rue Ludwig Van Beethoven ¤ Entrée 1 - Valbonne ¤ 06560
Tel ; +33 (0)492.96.07.07, Fax. +33 (0)492.38.98.08
    http://www.hotelomega.com
    
single : from 99 ¤ to 109 ¤, double : from 109 ¤ to 119 ¤, Breakfast : 12 ¤
For those choosing to stay in Antibes, just an info: some participants have booked a
room in the hotel "le collier", which is conveniently located at walking distance from the
harbor and downtown Antibes, and with good bus connections.
Hotel Le Collier, 23 bd Gen. Vautrin 06600 ANTIBES, phone +33 (0)493 74 56 40
fax : +33 (0)493 65 99 38.
Banquet Dinner
On thursday night, we organize dinner in a restaurant in Sophia-Antipolis,
i.e. close to INRIA and most hotels. We can easily drive you there from INRIA
and back to your hotels, using the cars and good will of the local participants.
The restaurant is called "Saveur Vivre",
and is generally considered good and creative.
I know the place, I like it very much.
Rapidly translated in English, the menu will be:

Aperitif: orange wine
Appetizer: cappuccino de cèpes (mushrooms)
Entree: 3 sorts of foie gras with the appropiate wine
Main course: lamb, rosemary and mushroom sauce, various vegetables
Dessert: made from fruit, chocolate and chestnuts.
It looks much better in French, obviously !...
Participants who would like different food, e.g. vegetarian...
please mention this to the organizer well in advance.
A priori, there will be no problem to adapt the menu to
specific requirements, if there is sufficient notice.